We welcome everyone at the Apollo Cinema — should you need accommodations for access, please let us know! 
We encourage visitors to inform us of their plans to attend the show at least one hour ahead of time. By doing so, we can ensure that we are prepared to accommodate your needs and provide you with a seamless and enjoyable experience. Before busy shows staff will not be available to answer emails or phone calls so as much notice as you can give is appreciated.
Visitors who plan to use the Apollo Cinema accessibility entrance are kindly requested to email [email protected] at least one hour ahead of the showtime. In the email, please include your name, contact information, the date and time of the show you plan to attend, and the time you plan to arrive. It is also helpful if you let us know whether you have a specific area you would like to sit, and whether you'd like any concessions.
Arrival at the Cinema
When you arrive, please proceed to the Duke St entrance of the Apollo Cinema (30 Duke St W).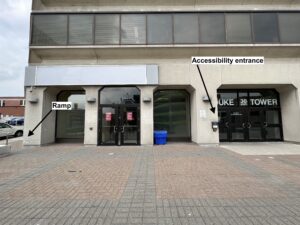 Entrance buzzer: At the accessibility entrance, visitors will find a buzzer panel with a numeric keypad to the left of the door.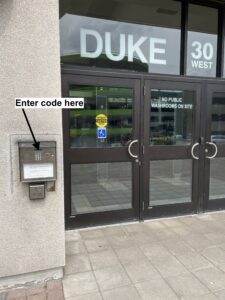 To request entry, visitors should dial the visitor code "001" using the numeric keypad. This will alert the cinema staff that you have arrived and are waiting to be let in. Once you confirm that you are coming to the Apollo Cinema, our staff will grant entry, the display on the buzzer panel will show the word "OPEN," and you will hear a tone, indicating you can now enter the building.
Entering the Building: Upon receiving the "OPEN" display or hearing the entrance tone, proceed to enter the building through the accessibility entrance. Once inside, a staff member will come meet you to bring you through our accessible entrance which runs beside our screen.
Once inside, please enjoy the show! At the end of the show our staff will return to let you out the entrance beside the screen where you entered.
Concessions 
Our concession stand is located down a flight of stairs from the cinema, please let them know if you would like to go there first. Otherwise, our staff will take you through the accessible auditorium entrance and can take your order and bring your snacks and change out to you. We do not have a portable debit/credit machine, any card payments must be paid at the register.
Access2 pass

 
Book a single ticket as normal, and a complimentary ticket will be provided to your Access2 caregiver on arrival. Customers need to provide a valid Access2 card with a valid expiry date to get their companion seat. Both the customer with the Access2 and the companion must attend the event together to receive the benefits.
Audio-Access 
We have no audio-access systems in place (plug ins for hearing aids, handhelds, etc.). We recognize this is a problem and are actively working to upgrade our infrastructure to provide this. We have in the past requested films to be played with open captions, please email [email protected] to request a screening. 

Other Important Information
All seating is on a ramped floor. We have two designated areas for wheelchair parking, but primarily our guests sit on the ends of aisles, wherever they choose.
Our primary washrooms have tight turns through doorways and no accessible stalls. There is a single accessible washroom which staff can direct you to.
Thank you so much, we look forward to seeing you!